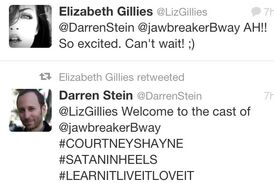 Jawbreaker is an American black comedy thriller film, directed by Darren Stein. It was released February 19, 1999. The film stars Rose McGowan, Rebecca Gayheart, Julie Benz, and Judy Greer as girls in an exclusive clique in their high school. Charlotte Ayanna has a non-speaking cameo role as a murdered prom queen. The film was inspired by the infamous movie Heathers, and is often compared to it, particularly the plot involving a popular female clique, and the accidental murder of one of its members.
Elizabeth Gillies is planned to play the main antagonist Courtney Shayne (originally portrayed by McGowan in the movie) in the Broadway version of this movie, but so far is only scheduled to participate in two studio shows and a reading of the script.[1]
Three of the most popular girls at Reagan High accidentally kill the prom queen with a jaw-breaker when a kidnapping goes horribly wrong.
References
Edit